Have you ever dreamed of doing a parachute jump and experience the exhilarating feeling of jumping from an aircraft at 10,000 feet and freefalling before your parachute opens at around 5,000 feet allowing you to soak up the fabulous views as you slowly descend ……
If so, why not be a daredevil and  take to the skies for Jack & Jill by partaking in a charity parachute jump (perhaps with a group of friends) through any of the following providers: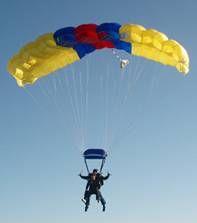 THE IRISH PARACHUTE CLUB – operate from Clonbullogue, Edenderry, Co. Offaly.

For further details call 1850 260 600 or log onto www.skydive.ie

SKYDIVE 4 CHARITY – offer a choice of parachute centres –  Kilkenny City and also Clonbullogue, Edenderry, Co. Offaly.  Skydive 4 Charity also provides a complete service on behalf of Jack & Jill making the process of organising your charity jump easy for you: sponsor packs, online registration & sponsorship, liaise with the selected charity, skydive centre booking, full & transparent financial report.

For further details call 045- 895696 or log onto www.skydive4charity.ie
To qualify for a charity skydive please note there is a minimum fundraising amount required to secure your parachute jump – for further details contact your choice of  provider or contact Jack & Jill on 045 894538.
---
WITH YOUR SUPPORT THE SKY IS THE LIMIT FOR JACK & JILL!