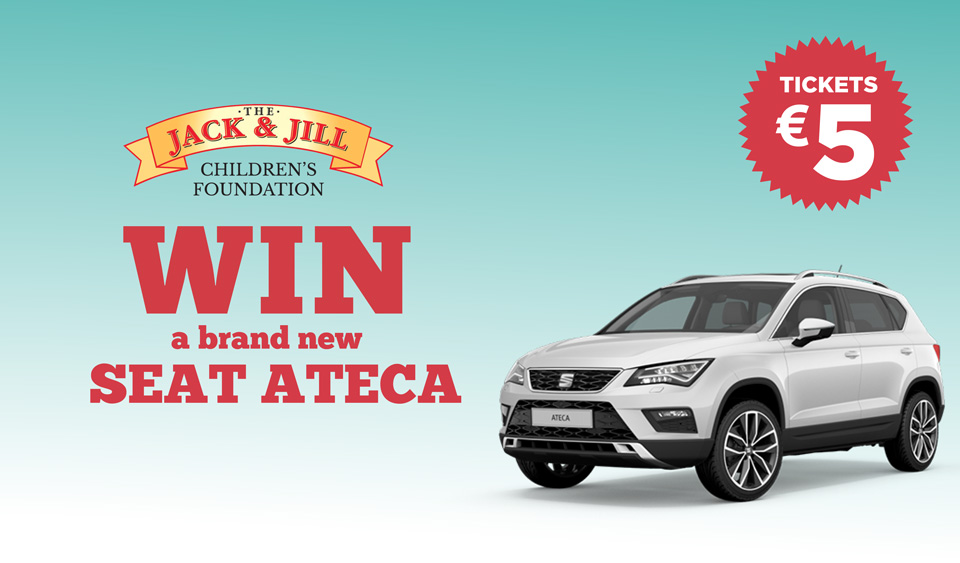 Jack & Jill SEAT Ateca Car Raffle
Purchase a Raffle Ticket for only €5 and be in with the chance to Win a brand new SEAT Ateca worth almost €30000!
TICKETS available online and sites across the Topaz network and at 23 SEAT dealerships nationwide. All proceeds go to the Jack & Jill Children's Foundation.
Raffle closes 30th April 2018. Terms and Conditions apply (visit Topaz Facebook page for details)
---
€250,000 Milestone
This new fundraising initiative launched by Topaz celebrates €250,000 they have raised to date for Jack & Jill through various campaigns by staff and customers, including Small Change for Big Change, The LEGO® Exchange and Raise a Teacup, along with multiple fundraising events held internally for staff. These campaigns have already resulted in the provision of over 15000 hours of home care nursing to our children.
The partnership, launched in 2015, will see Topaz raise €400,000 in vital funds for the foundation, and the car raffle will really help to accelerate efforts to reach the target.

Selected Topaz Sites
(click to see the list)
Tickets are available in the following Topaz sites
(browse by county)
Carlow • Cavan • Clare • Cork • Dublin • Galway • Kerry • Kildare • Kilkenny • Laois • Limerick • Louth • Mayo • Meath • Monaghan • Offlay • Sligo • Tipperary • Waterford • Westmeath • Wexford • Wicklow
CARLOW
• Carlow – Green Lane , Dublin Rd , Co. Carlow
• Tullow Road – Tullow Rd , Carlow , Co. Carlow
• Deerpark – Dublin Road , Carlow , Co. Carlow
• Junction 5 M9 – Junction 5 M9 , Rathcrogue , Carlow , Co. Carlow
CAVAN
• Cavan – Dublin Road , Cavan , , Co. Cavan
CLARE
• Shannon – Tullyvaraga , Shannon , Co. Clare
• Ennis – Limerick Rd , Ennis , Co. Clare
CORK
• Frankfield – Kinsale Rd , Cork , Frankfield , Co. Cork
• Ballincollig – main street nballincollig , Ballincollig , Main street , Co. Cork
• Bishopstown – Ardarostig, Bandon Road , Bishopstown , Bishopstown , Co. Cork
• Midleton – Old Cork Rd , Midleton , Co. Cork
• Tivoli – Lower Glanmire Rd , Tivoli , Tivoli , Co. Cork
• Douglas – Douglas , Douglas Village Cork , Douglas , Co. Cork
• Lakeview – Whitegate Rd , Midleton , midleton , Co. Cork
• Polefield – New Mallow Rd , Blackpool Shopping Centre , blackpool , Co. Cork
• New Mallow Road – New Mallow Rd , Noel Deasy Motor Complex , blackpool , Co. Cork
• Cork Airport – Cork Airport , Cork Airport , Cork Airport , Co. Cork
• Eastgate – Eastgate , Ballincollig , ballincollig , Co. Cork
• Mitchelstown – fermoy road , Mitchelstown , Co. Cork
• Leitrim St – Leitrim Street , Blackpool , leitrim street , Co. Cork
• Bantry – Newtown , Bantry , balliylickey road , Co. Cork
• Macroom – Coolcower (N22) , Macroom , , Co. Cork
• Marina Filling Station – Monaghan Road , Cork , Co. Cork
• Macs Place Ltd – Mallow , Cork , Co. Cork
DUBLIN
• Ashtown – Navan Road , Ashtown , Dublin 15 , Co. Dublin
• Autobahn – Glasnevin Avenue , Glasnevin , Dublin 11 , Co. Dublin
• Belmont – Sandford Road , Ranelagh , Dublin 6 , Co. Dublin
• Cabra – 146 Cabra Rd , Cabra , Dublin 7 , Co. Dublin
• Clonshaugh – Clonshaugh Road, opp Clayton Hotel , Clonshaugh , Dublin 17 , Co. Dublin
• Dublin Airport – Collinstown Road , Swords , , Co. Dublin
• Dublin Port – Dublin Port , Bond Drive , Dublin 3 , Co. Dublin
• Grosvenor – Grosvenor Road , Rathmines , Dublin 6 , Co. Dublin
• Kennelsfort – Kennelsfort Rd , Palmerstown , Dublin 20 , Co. Dublin
• Parkway East – Lucan-By-Pass (Dublin Bound) , Palmerstown , Dublin 20 , Co. Dublin
• Parkway West – The Hill, Chapelizod-By-Pass , Palmerstown , Dublin 20 , Co. Dublin
• St Peters Road – St Peters Road , Walkinstown , Dublin 12 , Co. Dublin
• Swords – Miltonfields , Swords , Co. Dublin
• Westview – Lissenhall , Swords , Co. Dublin
• Elm Park – Merrion Rd , Merrion , Dublin 4 , Co. Dublin
• Omni – Omni Park Shopping Centre , Santry , Dublin 9 , Co. Dublin
• Maypark – Malahide Road , Donnycarney , Dublin 5 , Co. Dublin
• Donnybrook – Donnybrook Road , Dublin 4 , Dublin 4 , Co. Dublin
• Taney – Taney Rd , Goatstown , Dublin 14 , Co. Dublin
• Clontarf – 232 Clontarf Road , Dollymount , Dublin 3 , Co. Dublin
• Stillorgan Road – Greygates, Stillorgan Road , Stillorgan , Co. Dublin
• Malahide – Main Street , Malahide , Co. Dublin
• Martello – Strand Road , Sandymount , Dublin 4 , Co. Dublin
• Richmond – Richmond Road , Ballybough , Dublin 3 , Co. Dublin
• West Pier – Crofton Road , Dun Laoghaire , Dublin 18 , Co. Dublin
• Beaumont – Beaumont Road , Beaumont , Dublin 9 , Co. Dublin
• Kilmainham – South Circular Rd , Kilmainham , Dublin 8 , Co. Dublin
• Templeville – Templeville Rd , Templeogue , Dublin 6W , Co. Dublin
• Apollo – , Dundrum , Dublin 14 , Co. Dublin
• Rochestown Avenue – Rochestown Avenue , Dun Laoghaire , Co. Dublin
• Kilternan – , Kilternan , Co. Dublin
• Dalkey – Ulverton Rd , Dalkey , Co. Dublin
• Sundrive – Lower Kimmage Road , Kimmage , Dublin 6W , Co. Dublin
• Blessington Road – Blessington Rd , Tallaght , Dublin 24 , Co. Dublin
• RSC – Butterfield Avenue , Rathfarnham , Dublin 14 , Co. Dublin
• Glenview – Bypass Rd , Tallaght , Dublin 24 , Co. Dublin
• Kilnamanagh – Maybury Rd , Tallaght , Dublin 24 , Co. Dublin
• Belgard – Belgard Road , Tallaght , Dublin 24 , Co. Dublin
• The Square – The Square , Tallaght , Dublin 24 , Co. Dublin
• Greenhills Road – Greenhills Rd , Tallaght , Dublin 24 , Co. Dublin
• Balrothery – Tallaght By Pass , Tallaght , Dublin 24 , Co. Dublin
• Ninth Lock – Ninth Lock Road , Clondalkin , Dublin 22 , Co. Dublin
• Three Rock – Grange Road , Rathfarnham , Dublin 14 , Co. Dublin
• Fortfield – Fortfield Rd , Kimmage , Dublin 6 , Co. Dublin
• Grange Castle – Nangor Rd , Clondalkin , Dublin 22 , Co. Dublin
• Glasnevin – Finglas Road , Glasnevin , Dublin 11 , Co. Dublin
• Donaghmede – Donaghmede Shopping Centre , Donaghmede , Dublin 13 , Co. Dublin
• Foxhall – Howth Road , Raheny , Dublin 5 , Co. Dublin
• Castleknock – , Castleknock Village , Dublin 15 , Co. Dublin
• Finglas – North Road , Finglas , Dublin 11 , Co. Dublin
• Ballymun – Ballymun Cross , Santry , Dublin 9 , Co. Dublin
• Balgriffin – Malahide Road , Ballgriffin , Dublin 17 , Co. Dublin
• The Ward – The Ward, North Rd , Killshane Cross , Dublin 11 , Co. Dublin
• Mulhuddart – Old Navan Rd , Mulhuddart , Dublin 15 , Co. Dublin
• Artane – Malahide Road , Artane , Dublin 5 , Co. Dublin
• Nevin – 59-63 Ballymun Road , Ballymun , Dublin 9 , Co. Dublin
• Westway – Kylemore Rd , Ballyfermot , Dublin 12 , Co. Dublin
• Coolmine – Coolmine Industrial Estate, Porters Road , Blanchardstown , Dublin 15 , Co. Dublin
• Hartstown – Hartstown , Clonsilla , Dublin 15 , Co. Dublin
• Lucan – Old Dublin Rd , Lucan , Co. Dublin
• Violet Hill – Finglas Road , Glasnevin , Dublin 11 , Co. Dublin
• Ballyboden – Ballyboden Rd , Rathfarnham , Dublin 16 , Co. Dublin
• Newlands – Font Hill Rd , Clondalkin , Dublin 22 , Co. Dublin
• Nutgrove – Nutgrove Shopping Centre , Rathfarnham , Dublin 14 , Co. Dublin
• Taylor's Lane – Taylor's Lane , Rathfarnham , Dublin 16 , Co. Dublin
• Citywest – Brown's Barn, Naas Rd , Citywest Business Campus , Dublin 24 , Co. Dublin
• Eglington – Bray Road , Cabinteely , Dublin 18 , Co. Dublin
• Rathcoole – Naas Road , Rathcoole , Co. Dublin
• Round Tower – Naas Road , Clondalkin , Dublin 22 , Co. Dublin
• Centenary – Old Bray Road , Cabinteely , Dublin 18 , Co. Dublin
• Cranley – Cranley Centre , Naas Road , Dublin 22 , Co. Dublin
• City Avenue – Citywest Road , Citywest Business Campus , Dublin 24 , Co. Dublin
GALWAY
• College Road – College Rd , Galway , Co. Galway
• Bohermore – Bohermore , Galway , Co. Galway
• Newcastle – Newcastle Rd , Galway , Co. Galway
• Kilcolgan – Kilcolgan , Kilcolgan , Co. Galway
• Tuam – Galway Rd , Tuam , Co. Galway
• Ballinasloe – Brackernagh , Ballinasloe , Co. Galway
KERRY
• Killarney – Park Rd , Killarney , Killarney , Co. Kerry
• Tralee – Rathass , Tralee , Tralee , Co. Kerry
• Fenit Road – Fenit Rd , Tralee , Fenit Road , Co. Kerry
KILDARE
• Brinkhall (Athy) Ltd – Kilkenny Road , Athy , Co. Kildare
• Maynooth – Straffan Road , Maynooth , Co. Kildare
• Athy – (King Oil ) Dublin Road , Athy , Co. Kildare
• Kill – Naas Rd , Kill , Co. Kildare
• Beaufort – Naas Road , Kill , Co. Kildare
KILKENNY
• Castlecomer Road – Castlecomer Rd , Kilkenny , Co. Kilkenny
• Waterford Rd – Waterford Rd , Kilkenny , Co. Kilkenny
• Park – Castlecomer Rd , Kilkenny , Co. Kilkenny
LAOIS
• Portlaoise – Abbeyleix Rd , Portlaoise , Co. Laois
• Abbeyleix – Cork Rd , Abbelyeix , Co. Laois
• Ballacolla – M8, Junction 3 , Ballacolla , Co. Laois
LIMERICK
• Dock Road – Shannonbridge Sstn , Dock Rd , Co. Limerick
• Caherdavin – Caherdavin , Limerick , Co. Limerick
• Roxboro – Roxboro , Limerick , Co. Limerick
• Corbally – Corbally Rd , Limerick , Co. Limerick
• Thomond – Thomondgate , Limerick , Co. Limerick
• Ballysimon Road – Ballysimon Rd , Limerick , Co. Limerick
• Castletroy – Dublin Road , Castletroy , Co. Limerick
• Pat Quinlan & Mary Collins – Dooradoyle , Limerick , Co. Limerick
LOUTH
• Boyne – Dublin Road , Drogheda , Co. Louth
• Mellifont – North Road , Drogheda , Co. Louth
MAYO
• Ballina – Foxford Rd , Ballina , Co. Mayo
• Ballinrobe – Bow Gate St , Ballinrobe , Co. Mayo
MEATH
• Kinnegad – Old Dublin Road , Kinnegad , Co. Meath
• Beechmount – Trim Road , Navan , Co. Meath
• Trim – Trim Retail Park, Navan Road , Trim , Co. Meath
• Navan – Proudstown Road , Navan , Co. Meath
• Clonee – Bracetown , Clonee , Co. Meath
• Dunboyne – Dunboyne , Dunboyne Village , Co. Meath
• Coolfore – Slane Rd , Ashbourne , Co. Meath
• Dunshaughlin – Dublin Road , Dunshaughlin , Co. Meath
• Ashbourne – Ashbourne Town , Ashbourne , Co. Meath
MONAGHAN
• Clones – Monaghan Rd , Clones , Co. Monaghan
• Monaghan – Coolshannagh , Monaghan , Co. Monaghan
OFFALY
• Tullamore – Arden Rd , Tullamore , Co. Offaly
SLIGO
• Cartron Hill – Bundoran Rd , Sligo , Co. Sligo
TIPPERARY
• Thurles – Kickham Street , Thurles , Co. Tipperary
• Cashel – Waller's Lot , Cashel , , Co. Tipperary
• Ahernes Newsagency Limited – Abbey road , Thurles , Co. Tipperary
WATERFORD
• Cove – Dunmore Rd , Cove , Co. Waterford
• Manor – Manor Street , Waterford , Co. Waterford
• Crystal – Cork Rd , Waterford , Co. Waterford
WESTMEATH
• Athlone – Brideswell, Dublin Rd , Athlone , Co. Westmeath
• Patrick Street – Patrick Street , Mullingar , Co. Westmeath
• Ballymahon Road – Ballymahon Rd , Athlone , Co. Westmeath
• N4 East – Mullingar-By-Pass , Mullingar , Co. Westmeath
• N4 West – Mullingar-By-Pass , Mullingar , Co. Westmeath
WEXFORD
• Quayside – Wexford Rd , New Ross , Co. Wexford
WICKLOW
• Bray – Dublin Rd , Bray , Co. Wicklow
• Kilmacanogue – , Kilmacanogue , Co. Wicklow
• Beechwood – Dublin Road , Bray , Co. Wicklow
• Rathdown – Bray Road , Greystones , Co. Wicklow
• Rockfield Park – N11, Kilmacanogue , Bray , Co. Wicklow
• Brennanstown – Hollybrook , Bray , Co. Wicklow
• Kilcoole – Main Street , Kilcoole , Co. Wicklow
• Wicklow – Sinnotts, Dublin Rd , Wicklow , Co. Wicklow
• Ashford – Main Street , Ashford , Co. Wicklow
• Parkview – Main Street , Blessington , Co. Wicklow