Information for Families
Legal Proceedings
How to include Jack & Jill in your financial settlement
Occasionally families decide to take legal proceedings for injuries their child has sustained as a result of negligence. The Jack & Jill Children's Foundation are aware of some specialist firms of solicitors who practice in this area but cannot recommend one firm over another.
However, if you choose to seek justice through the courts, we would kindly ask families to complete an Undertaking Form – which asks you to include the financial support Jack & Jill provides in your claim – and mail it to the Jack & Jill office.
Once completed, The Foundation will return you the Undertaking Form in order for you to present it to your solicitor.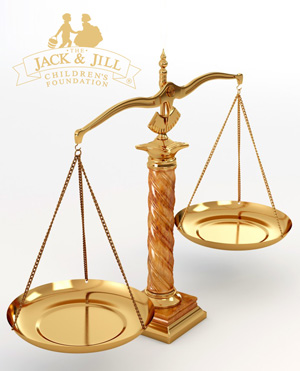 ---
Frequently Asked Questions
If we receive a financial settlement as a result of future legal proceedings in respect of our child's injuries, do we reimburse Jack & Jill?
Ideally, yes. Note: this should not affect your own settlement – your solicitor will add it to your claim, so as to seek to recover it from the defendant. The Jack & Jill Children's Foundation are then able to help other families cope with the hardships you have had to face.