Welcome to our
Online Store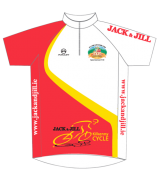 Kilkenny Cycle T-shirt
DESCRIPTION: sizes available: L, XL, XXL
Specially designed jerseys for the Jack & Jill Kilkenny Cycle 2017 (available for participants and non-participants). Number of jerseys is limited, so make sure you get yours early.
For as little as €20 you're getting a brand new professional cycling t-shirt, suitable for any 'wheelie' activity while making a valuable donation to Jack & Jill sick babies all over Ireland: 100% will go to The Foundation!
T-shirts will be posted to you free of charge!
Updating...