UP THE HILL
For Jack & Jill
The Campaign
Every year Jack & Jill faces the Up the Hill battle to raise €2.7m to continue to provide home nursing respite hours to the 273 very sick children nationwide currently under our wing. This September we are asking people to go Up the Hill for Jack & Jill, by climbing their hill and in doing so, help the charity to climb our fundraising hill.
This is a month long fundraising campaign happening throughout September 2016 with fundraising packs available upon
Online Registration.
The ask is very simple
Anyone can join the campaign to host/organize their Up the Hill for Jack & Jill:
by climbing a local hill big or small;
inviting friends for a short walk or a long run up or down a hill;
turn the incline up on the treadmill at the local gym;
bake a hill of cakes for friends;
host a pillow fight with a hill of cushions;
have a barbecue with a hill of burgers;
have a karaoke party with a hill of songs.
Pretty much anything goes and we want to hear about your ideas for your Up the Hill for Jack & Jill.
We call on all our friends, supporters, nurses, families, corporate partners, gyms, champions young and old to join the Up the Hill for Jack & Jill 2016 and help our very sick babies and their families all over Ireland.
Thank you.
The magic number is €16 which funds one hour of home nursing care for a sick child, and that's what we are asking everyone involved to donate.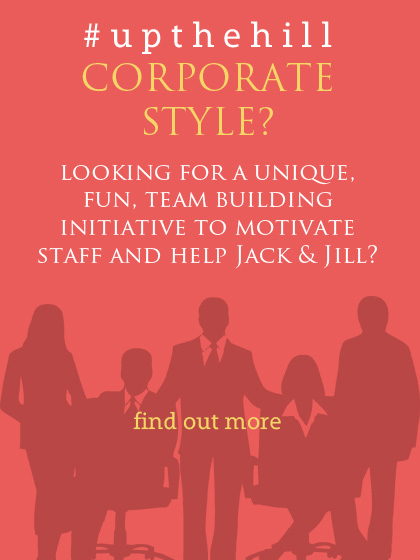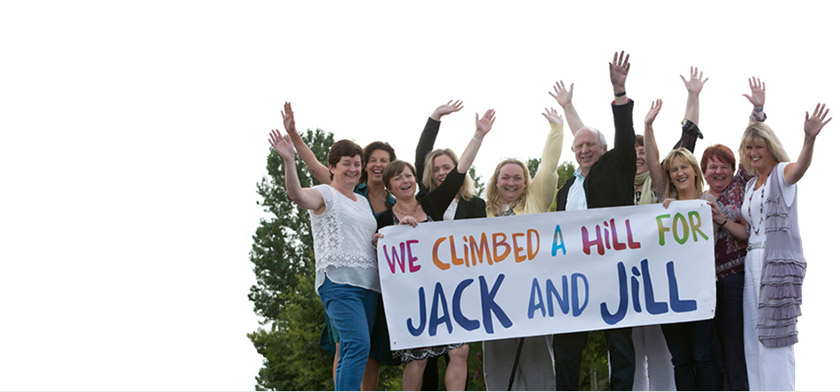 "The emphasis is on getting people to help sick children in their local
community,  simply by going up that hill for Jack & Jill..."
The Jack & Jill Team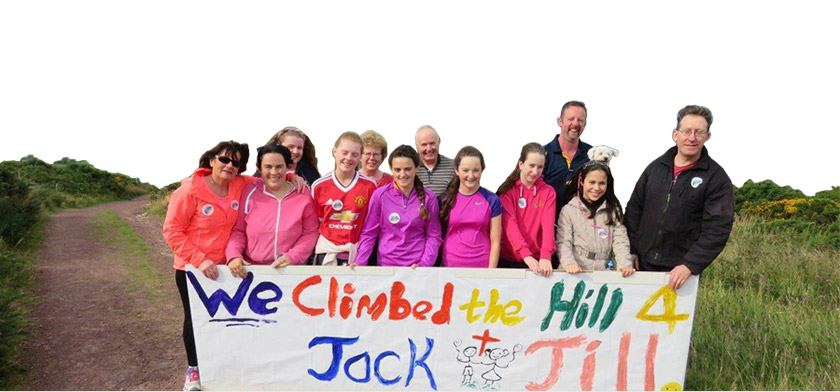 I am so proud of all the local people who helped us pull off this great day! From my neighbour
who took pictures, the girl next door who painted the banner, the local farmer who converted
his field to a car park, the parish priest and the guys who looked after the traffic."
Bernadette Cagney
This is how it works….

online on our website, or by phone on 045 894 538 – registration fee: €16

after registering, we will send you a registration pack so you can start preparing your Up The Hill event

your fundraiser with friends and family keeping in mind the good work you're doing for Jack & Jill families in your local community!
---
Are you a gym manager/owner? We are inviting you to come on board and support this year's Up The Hill challenge!

We are asking all Gym Goers to INCREASE THE INCLINE of the Treadmill during their workout to raise €16 which will provide One Hour Home Nursing Respite Care for a family in your locality.

Please support this Month long campaign during September to help us raise awareness and much needed funds for babies with life limiting conditions! Call us on 045 894 538 (email info@jackandjill.ie) to get an Up-The-Hill poster to put it up in your gym.