Jack & Jill has created a new 'currency' to fund home nursing care for sick children in the form of donated Lego blocks and is calling on families to round up that loose unwanted Lego and donate or sell it to the Foundation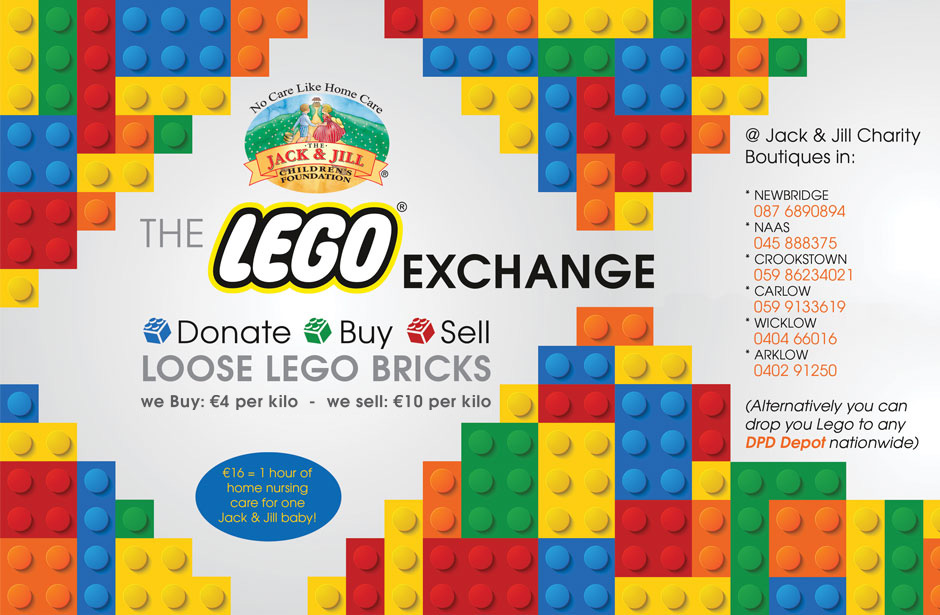 The Jack & Jill Children's Foundation is asking people to liberate their unwanted Lego bricks and to donate it to the charity to fund home nursing care and respite for families all over the country who are caring for their sick child at home. And we want to say a big thank to DPD Ireland, Topaz and our charity shops for setting up Lego collection points nationwide and to our media partners DDFH&B, Mindshare, Today FM, Screen Scene and Orlaith Rafter who are helping us spread the word about Lego donations.
The unwanted, loose (no instructions/boxes required) Lego can be bagged and dropped off at:
one of 38 DPD Ireland depots nationwide with a full list on dpd.ie/About-DPD/DPD-Depot-Finder
via Jack & Jill charity shops located in Arklow and Wicklow; Carlow, Crookstown (Ballitore), Newbridge, Naas
as well as via selected Topaz service stations at Clonshaugh, Kilmacanogue, Kill, Newcastle and Douglas (look out for the signs)
There is an option to sell the Lego via the Jack & Jill shops for €4 per kilo, but we'd obviously prefer donations if possible.
Please help us spread the word by alerting your family and friends to the Lego drop off points for Jack & Jill and if you are doing a fundraiser for Jack & Jill why not ask people to bring their Lego along and you can become our additional collection points. We're really hoping that more schools, preschools, clubs and businesses will jump on board the Lego express for Jack & Jill.
Every €16 raised through this Lego appeal will gift one hour of home nursing care for a sick child suffering from severe development delay as a result of brain damage, who typically can't walk or talk, who may be oxygen dependent, tube fed and on very heavy medication. Underneath all of the disability, however, these precious children under Jack & Jill's wing do better at home and that is where their family, friends and community want them.
We're appealing for Lego donations to build both national and local bank of home nursing hours
"We want to start a nationwide search in attics and under beds for unwanted Lego that will help us to build a national and county bank of Jack & Jill home nursing hours for sick children. This gift of Lego will translate into a gift of time for a local family – time to do the 'normal' things that others take for granted like sleeping, working, shopping or simply going for a walk. I know exactly what this respite means because my family walked this pathway with our son Jack who we cared for at home until he passed away in 1997. These days we have to be as creative and transparent as possible with all our fundraisers and we can show people exactly what their Lego donation funds in terms of home nursing care hours, with every €16 raised through this campaign funding one hour of home nursing care." – Jonathan Irwin CEO and Founder of Jack & Jill


Or check on the Dpd Location Finder on: www.dpd.ie/depot-finder