Crutches and zimmer-frames, essential in aiding our mobility following an accident or illness, have for years now, found long-term retirement homes in attics across the length and breadth of the country. The HSE's no-returns policy when it comes to crutches and zimmer frames has meant that once patients were finished with such items, they had no further use – until now that is.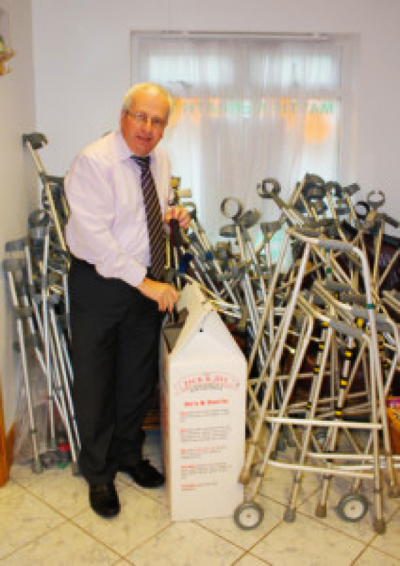 Recently, the Jack and Jill Foundation have been retained by the HSE to collect all these abandoned, old, dust-catching crutches and zimmer frames to be recycled to the benefit of the Jack & Jill Foundation.
Last week South Tipperary TD Mattie McGrath held a crutches collection day in his constituency office in Clonmel and over the course of two hours collected in the region of 80-90 pairs of crutches and 15 zimmer frames.
"The Jack & Jill Foundation do fantastic work providing nursing care and support for children with severe neurological development issues, as well as offering some respite to the parents and families. They are a wonderful charity and need as much support as possible," said Deputy McGrath.
"Unfortunately, the HSE continue to cut the grants paid to Jack & Jill every year which obviously affects the amount of care that they can provide to families. Thankfully, this is a very easy way to raise funds as so many households have old crutches, mobile phones and ink cartridges lying around and while they are no use to so many, they can be recycled to the benefit of the Jack and Jill Foundation," he said.
Jack & Jill have provided assistance to 38 families in South Tipperary since 1997 and they are currently providing care to nine families in the area. The cost of this care is €3,322 per month for these nine families.
"With more and more cuts to the Home Care Packages and difficulties with families receiving the Domiciliary Care Allowance, the Jack and Jill Foundation is often the main assistance that families with sick children under the age of four receive that allows them to care for their children at home," said Deputy McGrath.

Please support this worthy cause and bring along any old crutches that are no longer in use. To find more about this new Jack and Jill campaign please visit
jackandjill.ie/crutches
or call
045 894 538
.