There are 1600 hampers up for grab from Jack & Jill this Christmas!
This year Jack & Jill Foundation gives you the chance to WIN a beautiful Christmas Hamper filled with goodies for as little as €2! For each hamper, there are only 85 entry lines so everyone entering the draw gets a real chance to win Lily O'Briens chocolates, a Rupert Bear plus a bottle of Baileys.
Proceeds raised are going directly to our families!
Please see below the initial LOCATION LIST where you can enter the draw (we will update this list as soon as new locations are confirmed). For further details please call us on (045) 894 538 or email [email protected].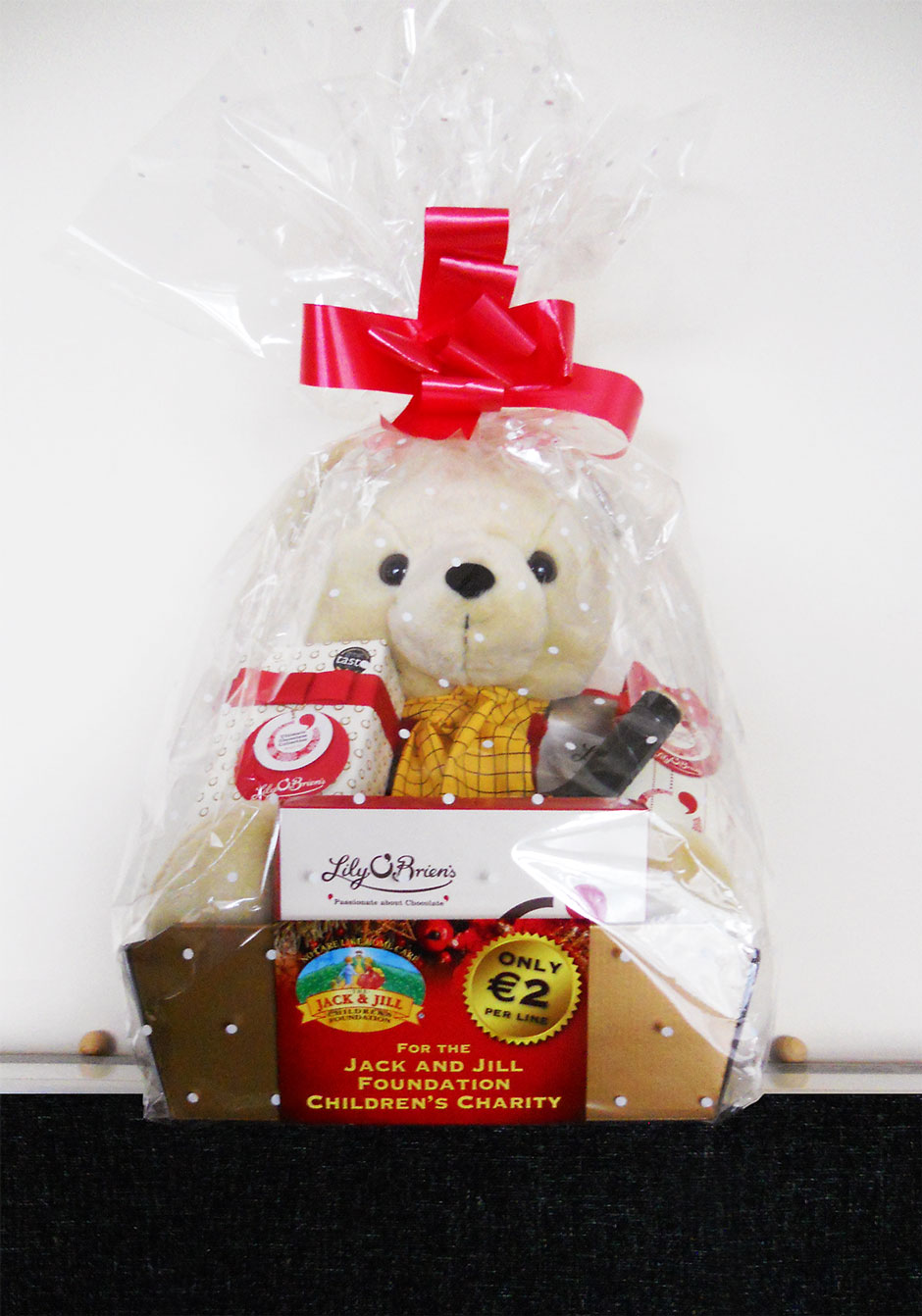 ---
Kildare
Harbour Pharmacy – Kilcock
Walsh's butchers Kilcock
Credit Union – Celbridge
Walsh's pharmacy – Celbridge
Paddy Power – Celbridge
Marron's pharmacy – Clane
Banbury bookmakers – Sallins
Mangan's pharmacy – Sallins
Urban image hairdressers – Naas
David Murphy's pharmacy – Naas
The Five Lamps pub – Naas
The Ivy pub – Naas
The Harbour hotel – Naas
Sharp cuts hairdressers – Naas
Paddy power – Naas
The castle inn pub – Carbury
The corner house pub – Rathangan
Mystic hair salon – Rathangan
Connolly's pharmacy – Kildare
Kildare pharmacy – Kildare
McHugh's pharmacy – Kildare
NA Meats butchers – Kildare
Eternal flair hair salon – Curragh
Flanagan's pub – Newbridge
Robbie's butchers – Newbridge
Designer hair studio – Newbridge
Westmeath
Post Office – Raharney
Belvidere Pharmacy – Mullingar
Amber House Hotel – Mullingar
Wallace's Pub – Mullingar
Golf club – Mullingar
Jackie's hair salon – Moate
Cunningham,s pharmacy – Athlone
Sean Og's pub – Athlone
Mary's hair salon – Athlone
Coleman's pharmacy – Athlone
Post office – Kilbeggan
Cavan
The Youkin bar – Belturbet
Cara pharmacy – Ballyconnell
Post office – Swanlinbar
Gala supermarket – Kilashandra
The abbey bar – Cavan
Delaney's pub – Cavan
Credit union – Ballyjamesduff
Post office – Kilnaleck
Fransis's hair salon – Virginia
Smith's butcher's – Mullagh
Meath
O'Driscoll's shop – Crossakeel
Flood's butcher's – Oldcastle
Caffrey's hotel – Oldcastle
Newman's bakery – Athboy
Credit union – Athboy
Daybreak supermarket – Fordstown
Post office – Blackcastle Navan
David's butchers – Navan
Rathcore golf club – Rathcore
Farrell's chemist – Ballivor
Mother hubbard's – Clonard
Longford
Credit union – Granard
Londis supermarket – Granard
The old village inn – Drumlish
Post office – Ballinalee
Gannon's chemist – Longford
Bruce's betting – Longford
Longford arms hotel – Longford
Pat's hair salon – Edworthstown
Munilly's pub – Ballinacarrigy
B@B betting – Ballymahon
O'Boyle's pub – Keenagh
Louth
Kavanagh's mini mart – Drogheda
Nano's pub – Drogheda
Tuite's butcher's – Drogheda
McCloskey's bakery – Drogheda
Mary's hair salon – Drogheda
Life pharmacy – Drogheda
Hanratty's butcher,s Castlebellingham
The Grove pub – Dunleer
Bradley's pharmacy – Dunleer
O'Connor's pub – Dunleer
Monaghan
Carrick pharmacy – Carrickmacross
Leavy,s pharmacy – Castleblaney
Four Seasons hotel – Monaghan
Leisure centre Four Seasons – Monaghan
Treanor,s butcher,s – Monaghan
Hillgrove hotel – Monaghan
The Skull Inn – Smithboro
The Paragon pub – Clones
Ballybay pharmacy – Ballybay
The Rocky street pub – Ballybay
---