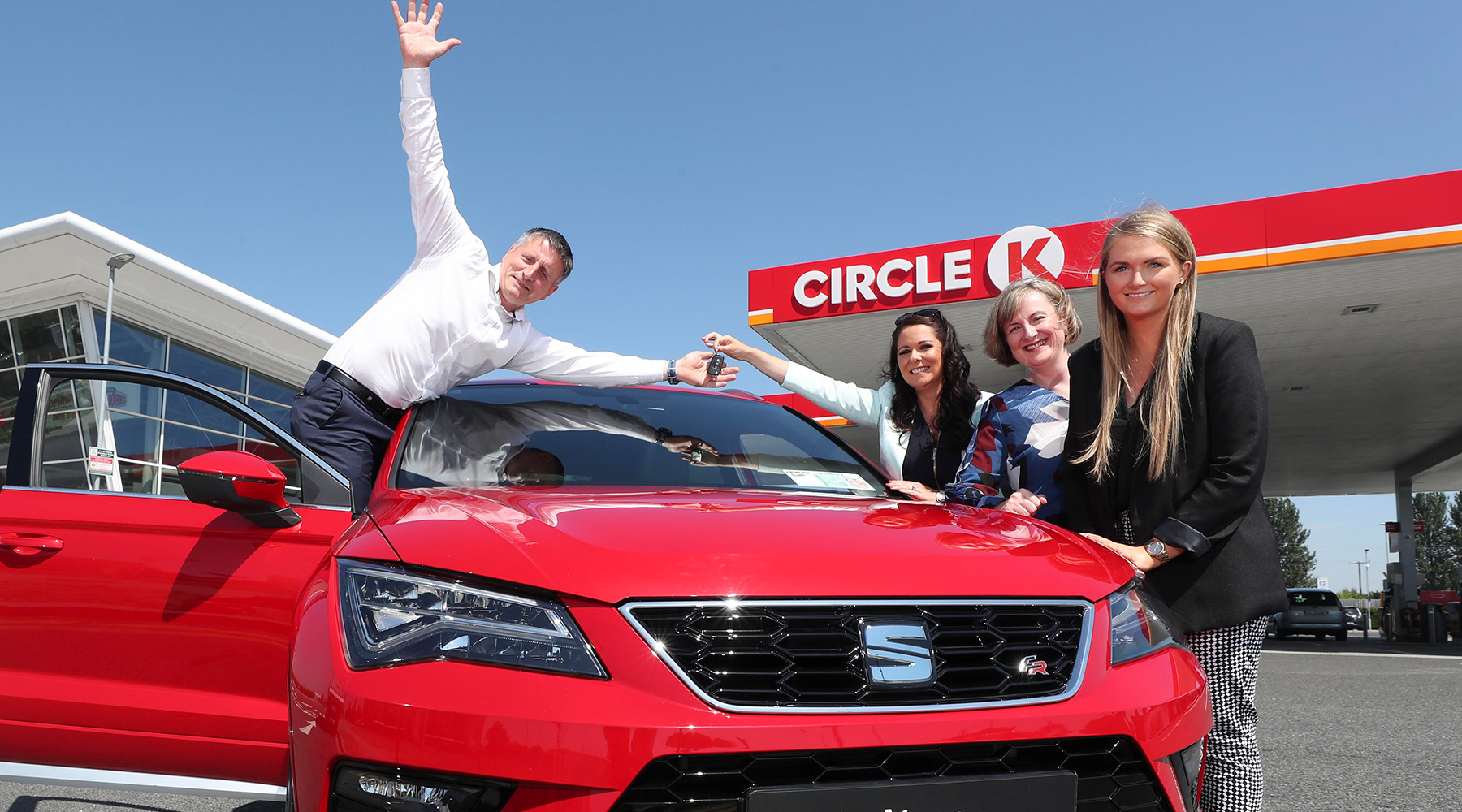 Dublin local wins car raffle and drives away in a new SEAT Ateca SUV
€350,000 raised to date by Circle K's staff and customers
Monday 2nd July 2018 – Circle K (formerly Topaz Energy), Ireland's largest fuel and convenience retailer, is delighted to announce Owen Laverty as the winner of its winter car raffle, an initiative that was put in place to help raise much needed funds for Circle K's charity partner, The Jack & Jill Children's Foundation.
As the lucky winner of the Circle K Winter Car Raffle, Owen, from Co. Dublin will take to the driving seat of a new SEAT Ateca SUV, worth €30,000. Earlier this year, customers across the Circle K network and at SEAT dealerships nationwide pledged their support to the initiative by purchasing raffle tickets, with all proceeds raised going directly to the Jack & Jill Children's Foundation.
Today's announcement coincides with Circle K revealing that it has raised €350,000 to date for The Jack & Jill Children's Foundation, through various fundraising initiatives undertaken by customers and staff nationwide. This includes Small Change for Big Change, The LEGO® Exchange, Raise a Teacup and the Winter Car Raffle which ran in conjunction with SEAT Ireland, along with multiple events held internally for staff. These campaigns have resulted in the provision of almost 22,000 hours of home care nursing to date for the Jack & Jill Children's Foundation.
Founded in 1997, The Jack & Jill Children's Foundation provides direct funding to families of children up to the age of five who suffer from severe intellectual and physical developmental delays. This model of care puts the family at the centre, providing home nursing and respite care that meets their unique needs.
Commenting on his raffle win, Owen said: "When I first heard that I had been drawn as the raffle's winner, I thought someone was twisting my arm! Not only have I won my dream car, but by partaking in the raffle I have had the opportunity to support the invaluable services that the staff at The Jack & Jill Children's Foundation provide to communities nationwide. I can't wait to take my new SEAT Ateca SUV out for a spin."
Judy Glover, Market Director at Circle K Ireland said: "I am delighted to be at Circle K Clonshaugh today to announce Owen as the winner of the winter car raffle. Not only are we thrilled to give the new SEAT Ateca SUV to such a deserving winner, but we are also celebrating the news that €350,000 has been raised to date across the Circle K network in support of The Jack & Jill Children's Foundation. I would like to extend my thanks to Circle K staff and customers for their continued support and for contributions to date."
Jean Young, Communications Manager at The Jack & Jill Children's Foundation said: "Today is certainly a cause for celebration as we congratulate Owen on winning Circle K's winter car raffle and wish him happy motoring in that fabulous SEAT Ateca SUV. We rely on the generosity of the public, fundraisers and partnerships like this one to continue to provide our service. The €350,000 raised to date through our partnership with Circle K is invaluable, with every €16 providing 1 hour home nursing care and respite to one of our families. The lives of the children under the Jack & Jill wing in every corner of Ireland, have greatly benefited from the outstanding fundraising efforts of staff and customers at Circle K sites nationwide. We have also benefited from customers at SEAT dealerships across Ireland through their support towards the Winter Car Raffle. I would like to extend my gratitude to all those involved."
Leslie Walsh, Marketing Communications Manager at SEAT Ireland added: "The team at SEAT were delighted to come on board as car partner for the winter car raffle in order to help raise additional funds for The Jack & Jill Children's Foundation, which provides such vital services to families. We hope Owen enjoys many a road trip in his new SEAT Ateca SUV!"
For further information, please contact:
Saoirse Whelan / Teneo PSG, [email protected] – 01 634 5207
Suzanne O'Connor / Teneo PSG, [email protected], 01 634 2563
About Circle K Ireland
Circle K Ireland, part of the global fuel and convenience store brand Circle K, is the leading fuel and convenience retailer in Ireland. With 2,300 employees, its retail network is made up of over 420 stations across the island of Ireland. Of these stations, over 160 are owned by Circle K and over 260 are owned by independent retail partners. The company also operates a large commercial fuels business, with over 20 depots and two owned terminals across the country.
About Circle K
Circle K is an international chain of convenience stores, founded in 1951 in El Paso, Texas, United States. It is owned and operated by the Canadian company Couche-Tard.
Circle K employs over 125,000 employees globally and has 15,700 stores in over 20 countries worldwide.
About the Jack & Jill Children's Foundation
The Jack & Jill Children's Foundation must raise €3.5 million every year to fund its unique home nursing care and respite service which is provided to sick children, from birth to 5 years of age, around the country. Typically, these are sick children who suffer from severe development delay as a result of brain damage, who may not be able to walk or talk, are tube fed, oxygen dependent and in need of around the clock care. The Jack & Jill service operates 365 days a year, has no waiting list and mobilizes an army of 750 nurses and carers around the country and has done so for 20 years.
About SEAT Ireland
SEAT Ireland is a subsidiary of SEAT SA with responsibility for a 23-strong dealer network in Ireland. The brand recorded a record-breaking sales performance in 2017 with an 18% increase in registrations year on year against a market decline of 10%. Fuelling SEAT's success in 2017 was the iconic SEAT Ibiza, which was the brand's best-selling vehicle overall. The SEAT Ateca, SEAT's award-winning, first ever SUV model, came a close second enjoying outstanding sales in its first full year of trading, with over 850 units delivered in 2017. Furthermore, SEAT's commitment to offering motorists attractive finance offers has led to a surge in the number of customers financing their purchase, with 51.8% of sales assisted through Volkswagen Bank. This is compared to 42.1% in 2016.