How many sleeps until Christmas????!!!!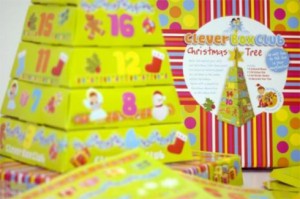 A fun creative toy and an alternative treat to the chocolate calendars! Children build up the six boxes into a Christmas tree. Starting from the bottom, each day of Advent, they decorate a side of a box with number and decoration stickers. Finishing on Christmas Eve, 24th, topping their decorated tree with a star. A wonderful table top Christmas tree decoration and alternative Advent calendar.
€1 from each sale donated directly to the Jack & Jill Children's Foundation!
Available from Art and Hobby stores nationwide and from www.cleverboxclub.ie

---
The Clever Box Club Team have seen first-hand the wonderful work carried out by the Jack & Jill Children's Foundation through a special family very dear to us and so we are delighted to offer our support to raise much needed funds.