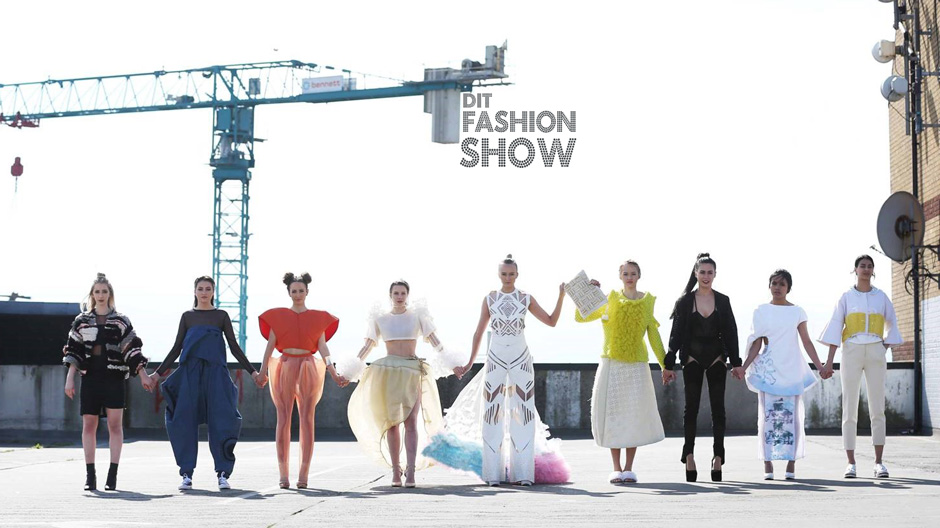 Top 9 student designs for DIT Fashion Show under theme of 'My Metropolis' show influences from bull fighting, to artificial intelligence, futuristic fantasy, femme fatale, mother nature, mother city, the interconnectivity of city life and real street style
These top 9 designs were unveiled on 23rd March on Level 9 Rooftop at the Q Park, Stephen's Green and a huge thank you to the students of DIT for choosing Jack & Jill as their charity partner again this year. The 9 dramatic student designs, all finalists at the student design competition at the DIT Fashion Show in Vicar Street on 19th April with tickets now available for €20 from eventbrite.ie, are:
"Symbio City" designed by Lisa Dooley from Lough Atalia Road in Galway, who studies at GMIT; modelled by DIT student Lorna Caulfield from Bray who studies Nutraceuticals in Health and Nutrition. Lisa says she wanted to "create an outfit inspired by a city where natural and man-made elements are harmoniously interwoven; mother nature and the 'mother city' working together." She named this fictional utopian "Symbio City".
"Call it What you Want" designed by Roisin Fagan from Garristown Dublin who studies at NCAD; modelled by DIT student Jane Crawford from Castleknock who studies Event Management. Roisin says her design was inspired by "the cool winter streetlights of a quiet Dublin city. I wanted to create something relaxed, funky and comfortable for someone who enjoys real street-style."
"Modern Matador" designed by Clodagh Knight from Palmerstown Dublin, who studies at Griffith College; modelled by DIT student Dearbhla Dolan from Belturbet Co. Cavan who studies Ophthalmic Dispensing. Clodagh's design is "inspired by the city of Barcelona and the traditional culture of bull fighting, using traditional colours mixed with modern fabrics and shapes to create a bold style."
"Artificial Intelligence" designed by Cija Lamb from Feakle in Clare, who studies at Mallow College of Tailoring & Fashion; modelled by DIT student Paris Brown from Howth Co. Dublin who studies Architecture . Cija's design is "based on the Nautilus shell, the spiral, Fibonacci Sequence and the interconnectedness of all things. Transparency and reflection are key. But humans must reflect that they are never too big to fall."
"Capitol Opulence" designed by Eamonn McGill from Dundalk, who studies at Grafton Academy; modelled by DIT student Eva Walsh from Athy Co. Kildare who studies Human Resource Management. Eamonn's inspiration comes from "the hunger games Capitol City in a futuristic fantasy world, using the light, opulent grand balls, futuristic lines of the buildings, where an outfit must have dual purposes with an extravagant touch."
"Jerusalem – The Promised Land" designed by Sarah Murphy from Roundwood in Wicklow. who studies at Griffith College; modelled by DIT student Santa Rubine who is from Moate in Westmeath and studies Biomedical Science.
"My Metropolis, The Story of a City" designed by Julia Rainey from Kinsale who studies at the Grafton Academy; modelled by DIT student Kristin Sleator from Mullingar, Westmeath who studies Architecture. Julia took her inspiration from "the Film Noir fantasy of the seductive, dark underbelly of the city. Here the femme fatale uses her sexual attractiveness and ruthless cunning to manipulate men in order to gain power, independence, money, or all three at once."
"Sculptural Palette" designed by Katie Wickstone from Rathgar Dublin who studies at Griffith College; modelled by DIT student Kate Macadangdang from Dungloe in Co. Donegal who studies Interior and Furniture Design. Katie's design "explores a love for artistic garments that have an edge and practicality to them." She has based her graduate collection on the works of the Irish artist Francis Bacon.
"Connections" designed by Aurelie Yolande from Dublin who studies at Griffith College; modelled by DIT student Katerina Gaydova who is from Swords. Aurelie says that her Metropolis "is a place where everything and everyone is connected." She says she concentrated on "an important feature of a big city – lights that could be translated as our human behaviour, sometimes turned on when we are connected to our world and sometimes turned off because we feel disconnected."
The judging panel for the DIT student design competition is made up of Brendan Courtney, TV personality, designer and co-founder of Lennon Courtney and Founder of Frock Advisor; Umit Kutluk, the 2011 winner of this DIT design competition and now a well known and influential designer in the Irish fashion industry; Maria Fusco, well respected stylist, fashion designer and fashion show producer; Bairbre Power, fashion editor of the Irish Independent and Weekend Magazine.
The DIT Fashion Society, which organizes this annual show, is one of 80 societies in DIT which have over 6,000 student members. The societies place heavy emphasis on the management of, and participation in, productions and campaigns such as the DIT Fashion Show with a view to the practical education of the students involved. Full details from www.ditfashionshow.ie
A big thank you to everyone involved, and we are certainly giving the show a big Shout Out from Jack & Jill!