2013 sees the return of 'The Jack & Jill'
Saturday April 27 th 2013.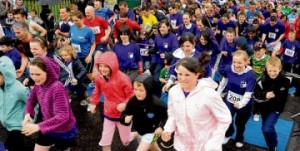 Now in its sixth year this 10-kilometre charity run or walk in the surroundings of Kenmare town is back. The Jack And Jill Run up the Hill has grown in popularity since the challenging and scenic course was first used in 2008.Over the last five years thousands of people have taken to the hills and raised thousands for the Jack And Jill Foundation.
The Jack and Jill is a family friendly event and kids, buggies, grannies and doggies (on a lead) are welcome.
Monies raised in the event for 2013 are to be donated to The Jack and Jill Children's Foundation .
Celebrate the end of winter with a weekend away in Kenmare and help Jack and Jill at the same time!
Its win- win
Jack and Jill Go up The Hill 2012 is open to runners and walkers of all ages.
The entry fee is €20.00
Under 16's must be accompanied and can enter for a minimum of € 5.00
All entrants are asked to bring a friend

The run/walk is on a Saturday afternoon at 3 pm and starts and finishes in the Square
Entertainment & Refreshments (Waterstation and coffee/Cookies) will be provided at the Top Of The Hill and at the finish line.
Please support this event for a good cause!