The Jack & Jill Children's Foundation will receive a contribution of €70,000 from KBC Bank Ireland as part of the bank's partnership with the Irish children's charity which was launched last year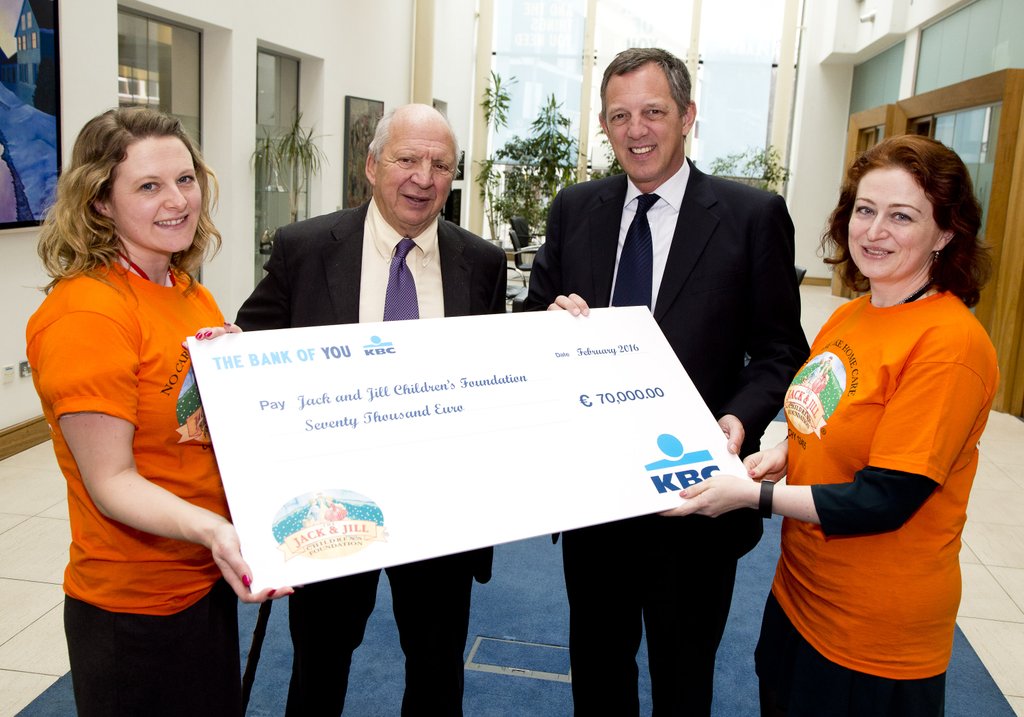 This much–needed donation is made up of €35,000 which was raised by KBC employees during 2015, with the remainder being matched by the bank. At the outset of the partnership, KBC committed to matching funds raised by its 1,000 employees and 15 retail hubs across Ireland through a range of fundraising events and initiatives.
All funds raised through the partnership between the Jack & Jill Children's Foundation and KBC will support a pilot scheme from August 2016 to January 2017 making the case for the charity to extend its home nursing care service to children aged 4 to 6 years old. The charity currently supports children from birth to 4 years old.
The new pilot scheme will include a small sample of 25 families whose children have reached the age of 4 years old for a 6 month period, from which Jack & Jill will collate feedback and results, as part of proposals for HSE support for a fully-fledged service for 4 to 6 year olds in Ireland. Up until now, Jack & Jill has traditionally provided home respite and nursing care services for the families of children with brain damage up the age of 4 years old and it currently supports 300 children nationwide by funding and providing their families with up to 64 hours of home nursing care per month at a cost of up to €1,024 per family and up to 80 hours per month for end of life care.
"This funding from KBC means a huge amount to the families under our wing and it couldn't come at a better time in terms of making the case for extending our service to children right the way up to 6 years of age. We've got a mandate from our families and from our nurses to make this happen and now the pilot scheme will provide more evidence for our HSE proposal for a wider service beyond 4 years old. I want to thank everyone involved in KBC for their generous contribution of time, physical effort and much-needed funds." – Jonathan Irwin, CEO Jack & Jill
"The Jack & Jill Children's Foundation does tremendous work caring for young children and their families when they need it most. At KBC, we're committed to helping customers, staff and communities share in a brighter future through our wide range of CSR and Sustainability initiatives, and we are delighted to be partnered with Jack & Jill. We are looking forward to working together to make Jack & Jill's pilot project a reality and help extend nursing care for older children and their families at home." – Aidan Power, Director of Customer, Brand & Marketing at KBC Ireland