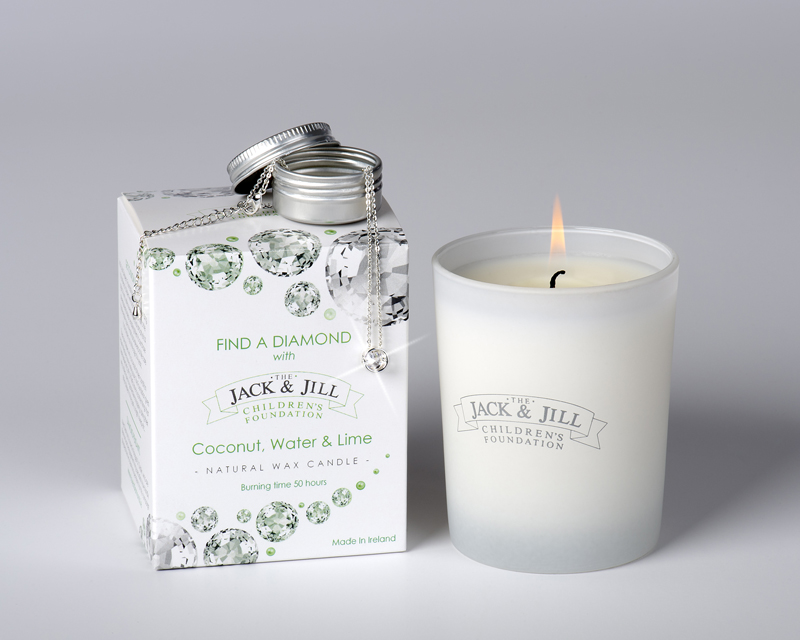 This Mother's Day, readers can give their special Mum the perfect gift of a Jack & Jill Candle. As well as receiving an exquisite Irish made candle, she will be in with the chance to win a stunning diamond necklace. Inside each Jack & Jill candle is a capsule which contains an eye-catching costume diamond pendant, with two of the candles containing real diamond pendants, valued at €1,000 each, donated by Loyes Diamonds of Baggot Street, Dublin.
'Find a Diamond Candle' are on sale at Jack & Jill shops* for €19.95 and from our ONLINE store
The candles are made in Ireland by Celtic Candles with proceeds going to fund home nursing care for sick babies and children. By buying a candle people can give 'the gift of time' to a Jack & Jill parent to do the things that others can take for granted like shopping, taking their other children out to mark Mother's Day, or simply a night's sleep. Every €16 raised provides one hour of nursing care.
The candles are available in two fragrances – Red Dahlia or Coconut, Water and Lime and were recently endorsed by two of Ireland's household blogging names – Lisa's Lust List and YStyle. The brainchild of DIT marketing student Amy Walsh from Newbridge, this is a multi-gift for less than €20 this Mother's Day – a quality, Irish made candle, each one with a sparkling necklace inside and that chance to find a REAL diamond.
*Jack & Jill Charity Shops:
Arklow, Main Street – Co. Wicklow
Crookstown Retail Park, Ballitore – Co. Kildare
Naas, South Main Street – Co. Kildare
Newbridge, Courtyard Shopping Centre – Co. Kildare
Portlaoise, Kealew Business Park – Co. Laois
Wicklow Town, Main Street – Co. Wicklow