Olivia Payne from Athlone is the winner of the Jack & Jill Foundation's crutch recycling competition which supports the launch of Jack & Jill's 3 month crutch harvest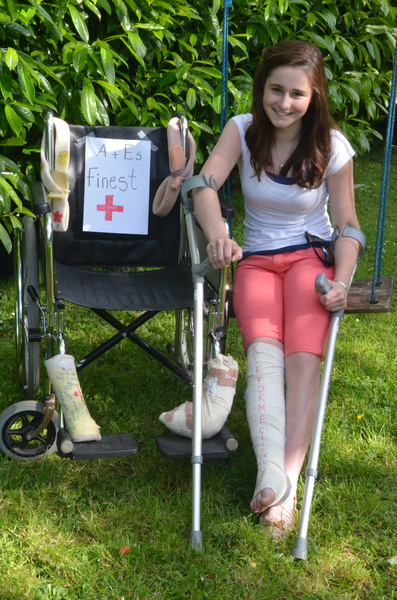 Olivia has won a 2 Night stay for up to 4 people in a Luxury Lodge at the Kenmare Bay Hotel & Resort, Co. Kerry for her entry in the Jack & Jill Foundation's crutch recycling Facebook photo competition.The picture of her daughter on crutches, Lauren gathered 159 votes in less than 2 weeks.
The competition supports the launch of Jack & Jill's Crutch Recycling Campaign which was the brainchild of Dr. Fergus Leahy from Tralee General Hospital and which will raise much needed funds for home nursing care to support 298 precious children with severe disabilities as a result of brain damage.
Jack & Jill wants to liberate the estimated 1 million crutches that are lying idle in Irish homes as these items are "single use only" and can't be returned via the HSE. The charity is asking people to deposit their crutches at any of Applegreen's 70 service stations around the country between now and September 2012. Some well known Irish people like Denis O'Brien, Joe Duffy, Anthony Daly and Mattie McGrath have already donated their crutches to Jack & Jill.
The crutches are then sold on as scrap and the aluminium is melted down into its raw form and reused. The campaign is supported by both Applegreen and Nightline Couriers and people can get details of Applegreen locations via www.jackandjill.ie/crutches-recycling/.