A unique "Pigs on Parade" art display was launched on February the 2nd, with 100 pieces of pig art to find on the streets of Dublin throughout February & March 2015 in aid of the Jack & Jill Foundation!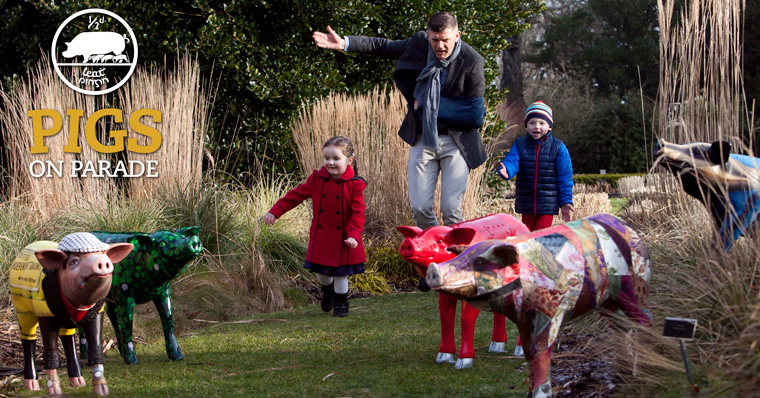 The pigs are available to be sponsored or purchased from www.pigsonparade.ie and we are inviting people to find the pigs, which are individually coded, and to enter a fun competition. The hand crafted pigs are designed to become highly collectable and valuable works of art. People can follow the Pigs on Parade via Facebook, Twitter (using #PigsonParade) and Instagram.
"With less than 20% of our funding coming from the State and this recent, blunt cut in our Lotto funding from €75,000 to €30,000, we rely more than ever on creative fundraisers like this. We have supported over 1,800 children and their families across every community in Ireland with home nursing care and respite since 1997. A wonderful campaign like this means a lot to our families in terms of reminding them that there are artists out there, ready willing and able to use their skill to produce a wonderful parade on pig pieces of art like we have now, all in aid of Jack & Jill families. Pigs on Parade allows us to raise awareness and funds for Jack & Jill and have some great fun and appreciate some wonderful artwork in the parade." – Jonathan Irwin, CEO
At the launch were broadcaster and journalist Brendan O'Connor and Jack O'Leary (age 5) and Emma Farrell (age 3) whose siblings receive home nursing care from the Jack & Jill Foundation. They were joined also by Jonathan Irwin, CEO and Founder of the Jack & Jill Children's Foundation in the Botanic Gardens Dublin, along with 10 of the 100 pigs to go on parade this week in Dublin and some of the artists involved.
Pigs on Parade
Is a public arts initiative organised by the Jack & Jill Foundation that will see 100 unique pieces of art in the form of painted and decorated life-size fibreglass Pigs designed by leading artists, designers and celebrities such as, Fink, Margaret Egan, Orla de Bri, Nicky Hooper, Niall O'Loughlin, Eoin O'Connor, Alison Hurst & Eddie Hobbs, Margaret Egan and Nick Munier going on display in public accessible areas around Dublin City.
The Pigs go on Parade for 5 weeks across Dublin City Centre and the locations are top secret, but soon to be revealed as part of the fun. Participants have to find 20 pigs, by using the special code to enter for draw for lots of prizes including a weekend break to Inchydoney Island Lodge & Spa Clonakilty, Cork for a family of four and lots more goodies.
Pigs of Parade free booklets are available in Dublin City Centre location such as St. Stephens Green Shopping Centre, Trinity College, Arnotts, Jervis Shopping Centre, Dublin Castle, Brooks Hotel, Powerscourt Townhouse Centre, Avoca, Hugh Lane Gallery, National Gallery of Ireland and Chester Beatty library and via www.pigsonparade.ie and through Jack & Jill.
All the Pigs will then be auctioned off for Jack & Jill through an online auction starting today and culminating in a live auction in the Double Tree Hilton on the 21st March. Anyone can buy them!