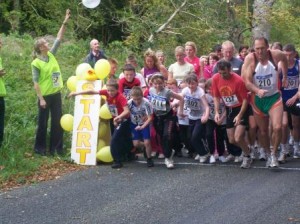 This year The Órla Memorial 5k  will take place on Saturday 29th September at 2pm in Ards Forest Park Creeslough, in aid of The Jennifer Trust for Spinal Muscular Atrophy, The Jack & Jill Children's Foundation and Paediatric Physiotherapy at Letterkenny General Hospital. Registration is from 12.00 – 1 pm just inside the entrance to Ards Forest Park. The event will be held in conjunction with Athletics Ireland Grand Prix. "Barney" and "the Big Duck" will be there to entertain as well as face painting for all the children!
There will be Prize giving and refreshments/home baking afterwards at the Ozaman centre in the Local village of Dunfanaghy. All are welcome! There are also shower facilities located here.
As a result of the enormous support that we have received, almost €50,000 has been fundraised over the last 3 years for the 3 charities, providing over 1700 nursing hours for Jack & Jill babies in the Donegal area. The committee would like to thank everyone who has helped and supported in any way and hope that you can join us again this year to raise much needed funds for 3 great children's charities and services!
For further details as well as sponsorship cards contact Sinead Trearty on 087 9932988 or on Facebook.