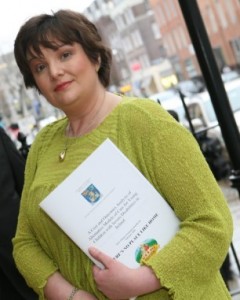 Naas mum Tina Priestley is a proud winner of the Vodafone 'World of Difference' competition and will be sponsored to work for three months with the Jack & Jill Children's Foundation.  The competition asked people to volunteer themselves for their chosen charities and selected 30 winners from almost 200 entries.
Tina's family has firsthand experience of the fantastic work of Jack & Jill as their son Bobby was born in 2008 with severe brain damage. Jack & Jill enabled Tina and her husband Derek to care for little Bobby at home by providing vital nursing care.  Sadly Bobby, the youngest of four children, died at home in his parents arms aged just thirteen months.
When Bobby was born Tina gave up her executive job in Advertising/PR to look after him and will now use her skills and expertise as a multitasking volunteer to thank Jack & Jill for the precious gift of time spent with her baby son.
"As the Foundation is not in a financial position to recruit further staff but still busier than ever, the team prompted me to put myself forward for this competition. It means a great deal to me personally and to the charity to be selected as a commissioned volunteer" Tina said. "Having this extra, experienced pair of hands will make a big difference to everyone involved in Jack & Jill at this very challenging time" said Jonathan Irwin CEO & Founder of Jack & Jill.