Narrated by Hollywood Legend Maureen O'Hara & Alan Titley, this lovely new book & CD tells the story of St. Patrick bi-lingually in Irish and English in a beautifully illustrated 36 pages (paperback) with a 10% donation from sale of each book going to Jack & Jill!
Gabrielle McDonald, a primary teacher from Dublin, adapted St Patrick's life story to suit children from age six upwards
(with guidance)
The Book uses colourful animated illustrations to enhance the child's reading experience.
Our much cherished Irish actress's charisma in narrating the story in English was magical, Professor Alan Titley's narration in Irish was superbly lyrical and very easy to understand. The backing track really captivates the atmosphere in the story which was composed by Mark Murphy of Soundbutlers.
The colourful scenic illustrations were drawn by Deborah O'Keeffe from Killarney, Co Kerry.
AVAILABLE FROM: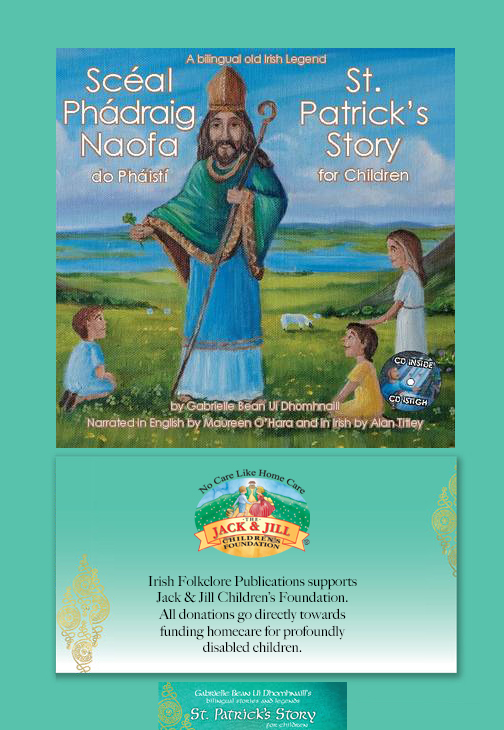 "Any parent or teacher could use this bilingual book to entice children towards Irish. Maureen O'Hara plays a central role as the storyteller in the English version of the book. Alan Titley does magnificent work in enabling children to hear beautifully rich, fluent Irish being spoken. Every child will be easily able to follow and understand Alan. Let's hope that Irish Folklore Publications will continue to publish more books of this high standard as this wonderful book."

Dónall Ó Fionnáin, Roinn na Gaeilge, Coláiste Hibernia, Baile Átha Cliath 2/ Eagarthóir Irisleabhar Staire Thiobraid Árann//Tipperary Historical Journal