Jack and Jill Presents 'Doves and Stripes' Rug to Noble Peace Prize Winner, President Barack Obama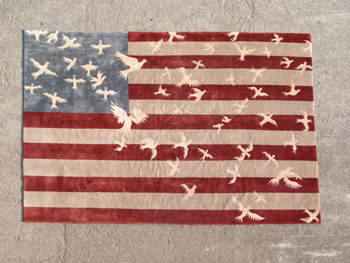 The 'Doves and Stripes' rug which measures 9ft X 6ft and was handmade in Katmandu and designed by Luke Irwin who is Jonathan Irwin's son and the brother of Jack Irwin – after whom the Jack & Jill Foundation was founded in 1997.
Jack and Jill presented this rug, via Minister Micheál Martin, to President Barack Obama on St. Patricks Day 2009, in the belief that he would change America's attitude to world affairs. It is quite remarkable that what we felt, we saw, has been translated into the Nobel Peace Prize.