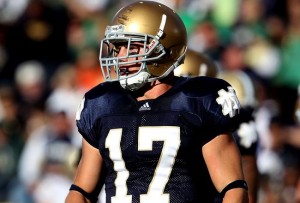 The Jack & Jill Children's Foundation is the recipient charity for a "Tailgate Party" organised by the American Women's Club of Dublin (AWCD) for the screening of the Notre Dame Vs Navy game in Ely Chq Bar and Brasserie near the IFSC on Saturday 1st September from 12 noon to 6pm, with an admission price of €15 per ticket.
The price includes a barbeque item like chicken or beef burger and a drink of wine/beer, with live music by the Joshua Tree and tickets are available from www.awcd.net or may be purchased at the door.
All proceeds for the Tailgate Party are going to the Jack & Jill Foundation which is the AWCD's designated charity for 2012-2013!
According to the AWCD the Tailgate Party, complete with multiple viewing screens, is designed for all fans – those going to the game (as doors open at noon) and well as those needing a great place to watch the game with other football fans. With over 30,000 US fans travelling to Dublin for this game, which is already SOLD OUT, this is one of the biggest international sporting events to be staged in Ireland in 2012 and the Tailgate Party is the best place to be, outside the AVIVA Stadium.
Tailgate party for screening of the Notre Dame Vs Navy game in aid of Jack & Jill
Date: 1st September 2012, 1:00PM – 6:00PM
Venue: ely CHQ Bar (near IFSC)
Tickets: €15 per person (includes sandwich, drink, live music) available on:
www.awcd.net