Have you ever read a bedtime story to a child and thought, I could write one like this? Or maybe you have family tales you would love to see in a book, to keep and re-tell to all the family's children?
Poolbeg, one of the leading children's publishers in Ireland, and the RTÉ Guide are launching a competition to let you do just that!
We're asking anyone with a children's bedtime story to tell to put pen to paper and write a 500-word story they would love to read to their children or grandchildren, nephews or nieces, godsons or god-daughters. Poolbeg and the RTÉ Guide will choose 20 of these stories to appear in a beautiful book that will go on sale just in time for Christmas, complete with illustrations inspired by the winning stories.
Royalties from the book's sales will go to the Jack and Jill Foundation!
For your chance to be published in this unique book, send a previously unpublished 500-word children's story written in English or Irish, in either of the following ways:
• Email your entry as an attachment to: [email protected], including your name, address and contact number and labelling your email 'Children's Collection Competition' or
• On paper, printed with double spacing, with a separate covering page with your name, address, contact number and/or email address to: Children's Collection Competition, 123 Grange Hill, Baldoyle, Dublin 13.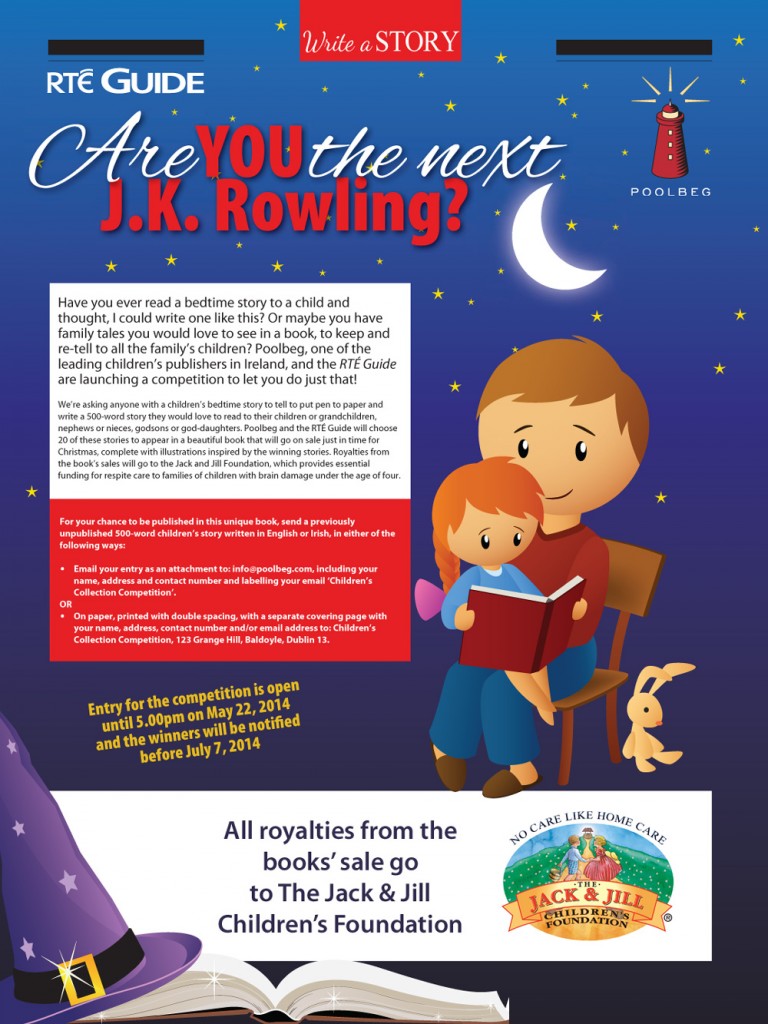 Terms and conditions
The Promoter is Poolbeg Press Ltd, (company no. 54255), whose registered offce is at 123 Grange Hill, Baldoyle, Dublin 13. Employees of RTÉ, of the Promoter or their family members or anyone else connected in any way with the competition or with helping to set up or run the competition cannot enter the competition.
There is no entry fee and no purchase is necessary to enter the competition. The competition is open to unpublished writers only of any age living on the island of Ireland.
Entries must be original works of fiction for children of up to but no longer than 500 words in length. No illustrated works or picture books will be considered.
Only one entry will be accepted per entrant.On the covering page (and ONLY on the covering page), entrants must detail their name, address, telephone number and e-mail address together with the title of the story. Please ensure that personal details do not appear on the manuscript itself as entries will be judged anonymously.
All entries must be in English or Irish. Entry details and format required. The manuscript shall be no longer than 500 words, typed with double spacing, and pages numbered.
A hard copy of the manuscript to be supplied to: Poolbeg/RTÉ Guide Children's Competition, 123 Grange Hill, Baldoyle, Dublin 13.
Email entries must be sent to: [email protected].
Manuscript will not be returned and entry will not be acknowledged.
Unsuccessful entries will be securely deleted from all electronic storage devices belonging to the Promoter.
The closing date for entries is 5.00pm, May 22, 2014. After this date no further entries to the competition will be accepted.
The promoter accepts no responsibility for entries not received successfully for any reason whatsoever.
The prize for the winner of the competition is as follows: the winning 20 entries will be published in a book by Poolbeg Press in a children's collection of short stories for Christmas 2014.
The Promoter is a service provider only and does not take any legal responsibility for the content of the winning entry, including responsibility for any defamatory, blasphemous or other material contained within the work that may be legally challenged.
The Promoter reserves the right to disqualify any entry if the entry criteria are not met, or if the entry contains illegal or ooffensive material.
The Promoter reserves the right to cancel or amend the competition and these terms and conditions without notice in the event of a catastrophe, war, civil or military disturbance, act of God or any actual or anticipated breach of any applicable law or regulation or any other event outside of the Promoter's control.
No cash alternative to the prize will be offered.
No payment or royalties will be received by the entrant.
The prize is not transferable.
The 20 winners will be chosen by a panel of judges appointed by the Promoter.
The decision of the panel of judges is final.
The winners will be announced on July 7, 2014 and must also make themselves available to be interviewed by representatives of the RTÉ Guide, if required.
The winners agrees that their story can be included in all media and social media as deemed appropriate by the Promoter.
Winners will be contacted directly by telephone or email on or before July 7, 2014.
The Promoter's decision in respect of all matters to do with the competition is final and no correspondence will be entered into.
The competition and these terms and conditions will be governed by Irish law and any disputes will be subject to the exclusive jurisdiction of the courts of the Republic of Ireland.
The winners agree to the use of his/her name and image in any publicity material created by the Promoter, by RTÉ or by the RTÉ Guide.
Any personal data relating to the winner or any other entrants will be used solely in accordance with current Irish data protection legislation and will not be disclosed to a third party without the entrant's prior consent.
RTÉ standard Terms and Conditions also apply, for details see www.rte.ie/about/competitions.
By entering this competition, entrants will be deemed to have indicated their acceptance of and agreement to be bound by these terms and conditions.
The 20 selected authors will be issued a letter of agreement which must be signed by Poolbeg and the author to allow the manuscript to be published in the Children's Collection.