Jack & Jill Foundation launches a very special candle for €19.99, with a sparkling ring cocooned in each candle and two real diamond rings to be found in this very special batch of candles on sale now!
This sparkling new idea was brought to the Jack & Jill fundraising team by 17 year old Amy Walsh from Newbridge who found the candle with a ring idea on the internet and knew it could be adapted for the charity, for which her Mum Deirdre is a fundraiser.
This very special Jack & Jill candle, with a lovely costume jewellery ring at the bottom of each, is designed by Irish candle makers Duffy & Scott from Tullamore Co. Offaly and retails at €19.99.
AVAILABLE IN:
Powerscourt Garden Pavilion 
Johnstown Garden Centre
Kildare Village in the Lily O'Briens Shop
Mount Juliet Christmas Fair
Super Valu – Cootehill, Co Cavan
Barker & Jones
and ONLINE on Jack & Jill website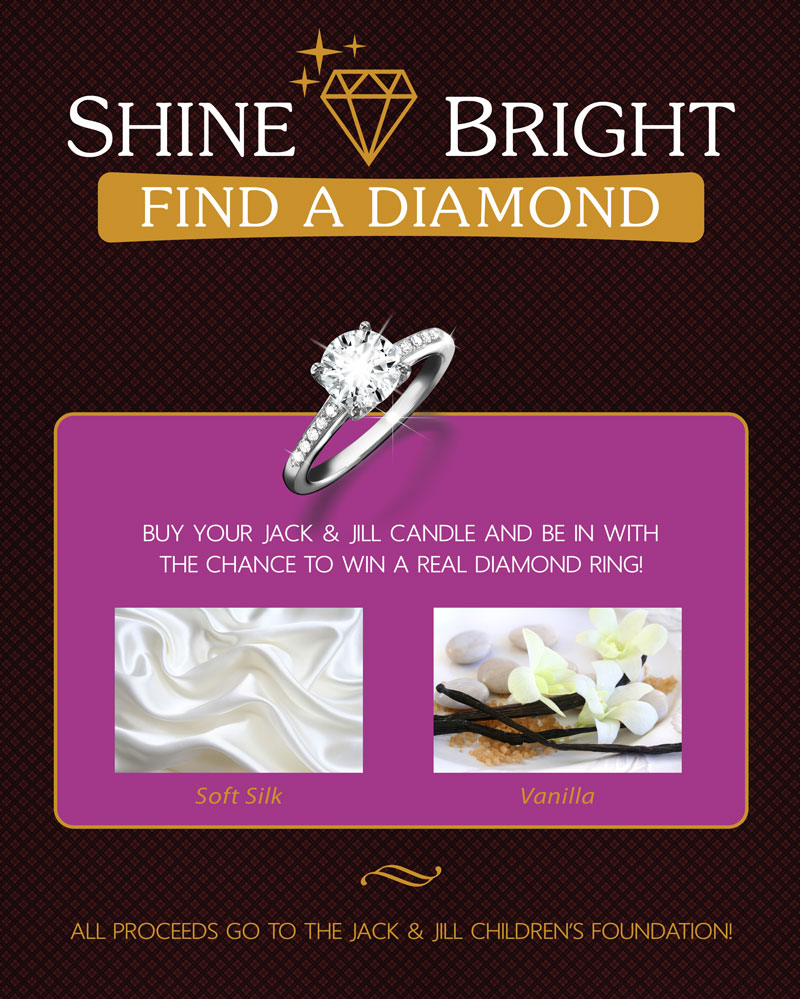 "This is very special gift which supports Jack & Jill while giving the purchaser a lovely Vanilla or Soft Silk scented candle, with the guarantee of a sparking ring in the candle, and a chance of finding a real diamond. When I came across the ring in the candle I really wanted to buy it, but it wasn't available in Ireland. So I put the idea to my Mum who in turn put the idea to the Jack & Jill fundraising team who made this happen. It's all very exciting and to see the finished product makes me very proud and all my friends are very keen to buy it!" – Amy Walsh
"It's a fantastic idea from young Amy who has always been a great volunteer for Jack & Jill. We're hoping that this campaign will really capture the imagination of the public, particularly in the lead up to Christmas, and will burn a hole in the €200,000 funding shortfall we face in 2014." – Jonathan Irwin, CEO Jack & Jill



Designed by one of Ireland's leading candle makers Duffy & Scott, which is based in Tullamore in Co. Offaly, this is an all year round gift which will be appreciated at birthday, anniversary and Christmas parties, as well as a simple gift to light up someone's day.