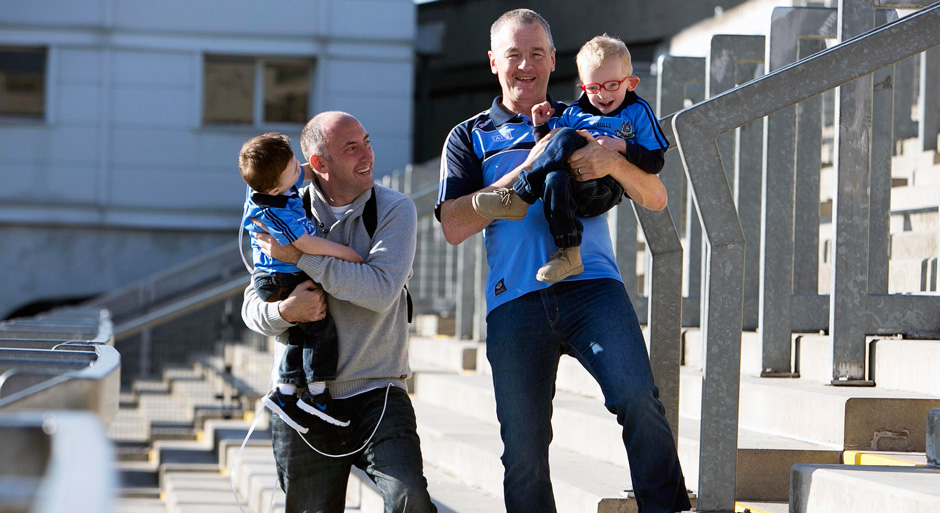 The children and their families did this in aid of the Jack & Jill Children's Foundation as part of the #UpTheHill campaign!
Up The Hill for Jack & Jill is a nationwide campaign running throughout October where people are asked to climb a hill of their choice – big hill, small hill, trick or treat hill, treadmill – and to donate €16 to the Jack & Jill Foundation to support one hour of home nursing care for children like Tom and Cian! The Jack & Jill Foundation supports 300 children up to the age of 4 years old nationwide with severe to profound developmental delay and children requiring end of life care.
Join Up The Hill for Jack & Jill!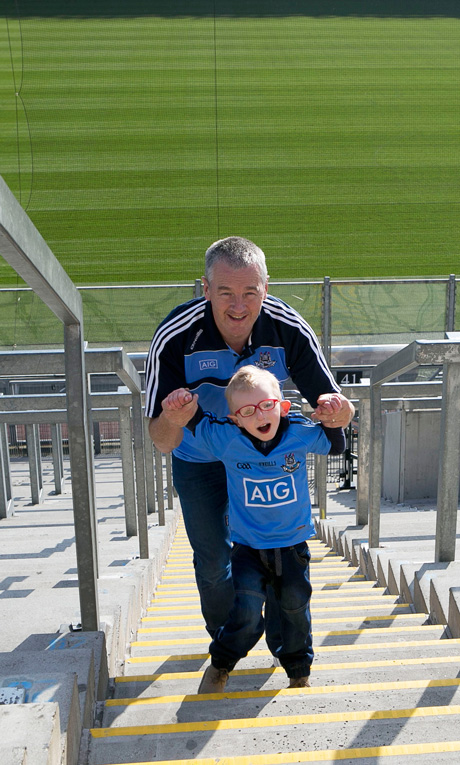 "Hill 16 is a very special place of inspiration and motivation for all the family." – Former Dublin goalkeeper and double All Ireland winner John O'Leary
Father and son were cheered on by John's wife Catherine and son Jack (6) who have climbed this particular hill for Jack & Jill. Tom has a rare chromosomal disorder.
---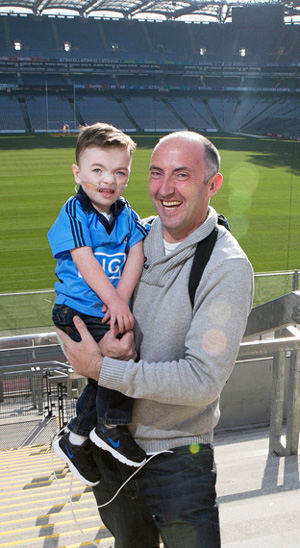 For Cian Byrne's family from Finglas, whose grandparents live in the shadow of Croke Park, Hill 16 was a natural choice and the family were delighted to meet Dubs legend John O'Leary.
"Cian has Cri de Chat syndrome, But that has never stopped him from adventure," – Andy Byrne
Cian and Andy were cheered on by Andy's wife Joanne, Cian's brother Shane and his auntie Lisa.
Jack & Jill nurses Sinead Moran and Caroline Thomas also took part and thanked the GAA for allowing the children and their families to make this very special Hill 16 climb.
Jack & Jill is using the campaign to build awareness of the families under its wing nationwide with sick children, from birth to 4 years old, and the hill they climb every day to keep their child well cared for at home, where they belong, with the help of Jack & Jill nurses.
The way this nationwide October campaign works is that people, young and old, fit or aspiring to be, individually or in groups sign up to their choice of hill on www.jackandjill.ie/up-the-hill-for-jack-and-jill for a once off registration fee of €16 which funds one hour of home nursing care for sick children who suffer severe development delay as a result of brain damage.
The Jack & Jill funded homecare plan is designed around the whole family, never forgetting the siblings. There is no waiting list and the nurses provide an out of hours service for the families that need it and operate 365 days a year, in every community and every walk of life. The nationwide service includes home visits and care, advice, information, lobbying and bereavement support, with the Foundation providing funding for up to 64 hours of home nursing care per month at a cost of €1024 per family and up to 80 hours per month for end of life care. With less than 20% of its funding coming from the State, the Jack & Jill Foundation relies on the generosity of the public and campaigns like 'Up the Hill for Jack & Jill' to keep going.
A big thank you to all involved!!!!